Jane Hirshfield

Jane Hirshfield featured in:

The Best American Poetry: 2005, guest editor Paul Muldoon.
---

Poems.

Translated poems.

Prose.


Questions, Answers.

Time line.

Links and Books.
Poems of Jane Hirshfield
2015: The Beauty
| | |
| --- | --- |
| | The Beauty is Hirshfield's eighth collection of poems; longlisted for the National Book Award and a San Francisco Chronicle Best Book of 2015. |
2006: After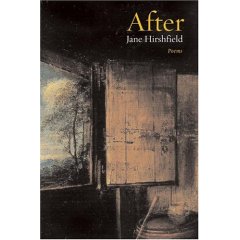 Her sixth collection of verse.
Poems of careful thought.
Almost 20 poems subtitled 'an assay,' which means a try or trial or attempt, an exposition or study of characteristics, and an analysis to investigate whether particular components are present. Some are on things (Sky, Tears, Gravel); some are on emotions (Hope, Envy, Hesitation, "Ah!"); some are on small parts of grammar (Of, To, And). In effect, they are micro-essays, as are most of the poems in this book.
Some 'assays' are prose poems.
Many elegies, some explicit and some subtle, some personal and shared by others. Meditative and often sorrowful tone.
A delightful respite in the sequence of short (1 to 5 lines) poems placed together to form the longer poem, 'Seventeen Pebbles'. Each little component is a "brief, easily pocketable perception that remains incomplete until the reader's own response awakens inside it."
A favorite is the final poem, "It was like this: you were happy", which is worth the price of the hardback book:


  
  It was like this: 
  you were happy, then you were sad,
  then happy again, then not.
  
  ...
  Your story was this: you were happy, then you were sad,
  you slept, you awakened.
  Sometimes you ate roasted chestnuts, sometimes persimmons.

Almost every other poem contains the word 'grief'.
A large number of poems use the dog a symbol for joy; this does not work for the portion of the population that have been bitten by dogs, stepped in dog shit that too many dog owners neglect to clean up ( such as in Bellingham, Washington State, U.S.A.), or been kept awake by the barking of neighbor's dogs.
Acknowledges first publications in:

The American Poetry Review
The American Scholar
Atlanta Review
The Atlantic Monthly
Columbia Journal
Forward
The Georgia Review
Green Mountains Review
The Kenyon Review
Literary Imagination
Lyric
MiPeosias
New England Review
New Letters
The New Yorker
Nightsun
Orion
Ploughshares
Poetry
The Princeton University Library Chronicle
Runes
Shambala Sun
Slate
Speakeasy
The Threepenny Review
Tin House
Tricycle
TriQuarterly
Vallum
Water-Stone Review
Yale Review

with many reprintings and anthologizings, including The Best American Poetry: 2005, guest editor Paul Muldoon.
Notes on a Question-Answer session at an After reading.
2001: Given Sugar, Given Salt
Her fifth collection; 69 poems.
Meditative.
As Poetry Daily, "explorations of essential human questions amid the changing and sensuous world".
1997: The Lives of the Heart: Poems
1994: The October Palace
Her third collection of verse.
Detached; thermally cool.
A few interesting poems:

'History as the Painter Bonnard' (an ars poetica of striving).
'Floor' (a delightful 'nailing' of the project of the poem).
'Inspiration' (though 15 or more of its 27 lines are quotations or paraphrases from other writers).
'The Weighing' (like 'Floor', pleasingly concise).

A much more intellectual and long book than Of Gravity and Angels; poems longer in line length and number of lines than Of Gravity and Angels.
Feels as if the book might have been forced rather than evolved.
1988: Of Gravity and Angels
1982: Alaya
Translated poems.
The Ink Dark Moon: Love Poems by Ono no Komachi and Izumi Shikibu, Women of the Ancient Court of Japan (1986. Expanded edition 1992.)
A jewel box of Tanka poems, written with the translation help and Romaji of Mariko Aratani.
Essay material added in the later editions makes this an even more valuable teaching text.
'Introduction': context in which women of the Japanese Heian Court wrote. The importance and value of poetry in their society.
Translated Poems of love and longing by Ono no Komachi (~ 850). Gorgeous work.
Translated Poems of Izumi Shikibu (~974-~1034). Her poems of mourning are more interesting than her poems soliciting love.
'On Japanese Poetry and the Process of Translation.' Informative essay added to later printings of the book.
'Notes on the Poems' (added to later editions). Explains how romaji represent Japanese sound in an English-language alphabet. Then gives the Japanese poems in romanization, with notes on many individual poems. Discussion of pivot (double-meaning) words for some poems.
Selected Bibliography.
Prose of Jane Hirshfield.
2015: Ten Windows: How Great Poems Transform the World
Ten chapters:
"Kingfishers Catching Fire: Looking with Poetry's Eyes."
"Language Wakes up in the Morning: On Poetry's Speaking."
"Seeing Through Words: An Introduction to Bash̄, Haiku, and the Suppleness of Images."
"Thoreau's Hound: Poetry and the Hidden."
"Uncarryable Remainders: Poetry and Uncertainty."
"Close Reading: Windows."
"Poetry and the Constellation of Surprise."
"What is American in American Poetry: a Brief Primer with Poems."
"Poetry, Transformation, and the Column of Tears."
"Strange Reaches, Impossibility, and Big Hidden Drawers: Poetry and Paradox."
1998: Nine Gates: Entering the Mind of Poetry
Questions, Answers.
After a reading in 2006, about five weeks since the publication of After, Jane responded publicly to these questions. She was very generous in allowing herself to make connections and expand her response as she spoke. Both questions and answers are reported as closely as possible to their original, but we acknowledge that we may have somewhat paraphrased:
The title of the poem that you opened the reading with is 'Theology'. How I heard the poem was strongly affected by the title. What is your 'art and process' of making titles?

A title carries weight and does work and has a role to play.
Some teachers want each line of a poem to have a stick of dynamite in it. "I don't do that."
[So] sometimes I have a title that is a repetition of the poem's first line.
Sometimes a poem needs a title like one of the two points that a spark plug needs, to make the poem sparkle. I look for a title that would give the poem its aliveness and weight.
In the case of the poem "Global Warming", I had the poem for months before I realized that it illustrated global warming "and it was clear that should be the title. ... ending [the poem] 'And that reminds me of global warming' would be bludgeoning the reader."
Titles either come very quickly or very slowly.
I like my book titles that pull in two directions. So I was surprised to find that I liked After as a book title.
"For a long time I thought that 'Theology' would be the first poem in the book." But then I thought it was not the best introduction to my work for someone opening a book and reading the first poem.

How does your Zen practice interact with your writing practice?

My writing and my Zen are the two feet that I walk on. They both help me understand better how it feels to be a human being.

What was the effect on you of translating The Ink Dark Moon?

"I was a co-translator with Mariko Aratani."
It helped that "I had led a life like theirs at Tassajara."
In translating a poem, the original exists independent of your translation. It cannot get lost. That gave me the freedom to try the poem in radically different ways, such as changing word orders and exploring how the translation worked if the subject of the poem was either first or second or third person.
The freedom to experiment in translating changed my relationship completely to revising my own poems. It made me much more free about trying.

What was your process on deciding the sequence of the poems for After? How did that process compare with the work for you earlier books?

My first three books had the same four sections (love, nature, community, and 'death and other heavy subjects'?) so they were relatively clear.
But then I began to write poems that no longer fit into convenient categories.
I'm lucky to be able to use readings while preparing the manuscript, to get a sense of what is a strong opener. The reason I thought 'Theology' would be the opening poem of the book was because it worked so well as the opening poem at a reading.
Those readings also gave a sense of a good closing poem. [The closing poem of After is 'It was like this. You were happy.' This was the closing poem of her reading also.]
Get a big room. Toss the poems on the floor and move them around.
Often (like with the many 'looking out the window' poems) I space them out in the book, with other poems in between them, so the reader does not find them too much of the same thing.
The book needs a narrative arc, even if it's an arc that is known only to you. "But who reads a poetry book front to back? So I wonder who I am doing this for."
"You change the sequence like you revise a poem, until it stops changing."
1953.

Born.

1973.

In Princeton University's 1973 graduating class.

1974.

Entered the San Francisco Zen Center for 8 years of full-time practice, including 3 years at at their Tassajara monastery.

1982.

Ended full-time practice with the San Francisco Zen Center.
Publication of first book of poems: Alaya.

1986.

Translation: The Ink Dark Moon: Love Poems by Ono no Komachi and Izumi Shikibu, Women of the Ancient Court of Japan.

1987.

Helped Stephen Mitchell prepare an anthology of sacred poetry, especially by adding work of women poets.

1988.

Poems: Of Gravity and Angels

1992.

Translation: expanded edition of The Ink Dark Moon.

1994.

Poems: The October Palace.

1997.

Poems: The Lives of the Heart.

1998.

2001.

Poems: Given Sugar, Given Salt

2006.

Poems: After.

2015.
Links and Books.
---
[Thanks for visiting.]